Isolation of Plant DNA using CTAB Protocol with a Spin Column
CTAB buffers are widely used to isolate DNA from plants as they are effective for removing polysaccharides and polyphenol contaminants. Most CTAB protocols simply precipitate DNA which is followed by chloroform extraction. However, by incorporating a silica spin columns into the protocol, higher purity DNA can be isolated. Spin columns have a glass fiber filter that captures DNA so that it can be more stringently washed. DNA is easily eluted with water of TE buffer. This added step results in cleaner DNA than extractions without spin columns.
Material
200 mg leaf tissue
CTAB Extraction Buffer (OPS Diagnostics, product number CEB 125-01, CEB 500-02)
RNase A Solution (10 mg/ml in water, boiled to be DNase free)
Chloroform/Isoamyl alcohol (24:1)
Isopropanol (2-propanol)
70% ethanol (Ethyl alcohol)
TE buffer (10 mm Tris, pH 8, 1 mM EDTA)
Spin Columns (OPS Diagnostics product number SSC-100-01)
Protocol
Using a mortar and pestle, leaf tissue was cryogenically pulverized and 200 mg added to a 2 ml microcentrifuge tube.
CTAB Extraction Buffer (500 µl) was added, mixed, and then placed in a water bath for 30 minutes at 60°C. Once removed the tubes were centrifuged for 10 minutes at 13,000 x g.
The supernatant was transferred to a new tube where 5 µl of RNase A was added. The tubes were incubated at 37°C for 15 minutes.
The lysate was extracted by adding equal volume of chloroform/isoamyl alcohol, vortexed and then centrifuged. The upper aqueous layer was transferred to a new microcentrifuge tube. This step was repeated until upper phase was clear.
The DNA was precipitated by adding 0.7 volume of isopropanol, and then incubated at -20°C for 15 minutes.
The sample was transferred to a spin column and centrifuged for a 1 minute at 8,000 x g to bind the DNA to the column.
The column was washed twice with 250 µl 70% ethanol, centrifuging after each wash.
The DNA was eluted in 20 µl to 100 µl of water or TE buffer and collected in a clean microfuge tube.
Typical Results
The following graph is from corn. For comparison, the procedure was done in parallel without a spin column. The lower green line represents isolation without a spin column.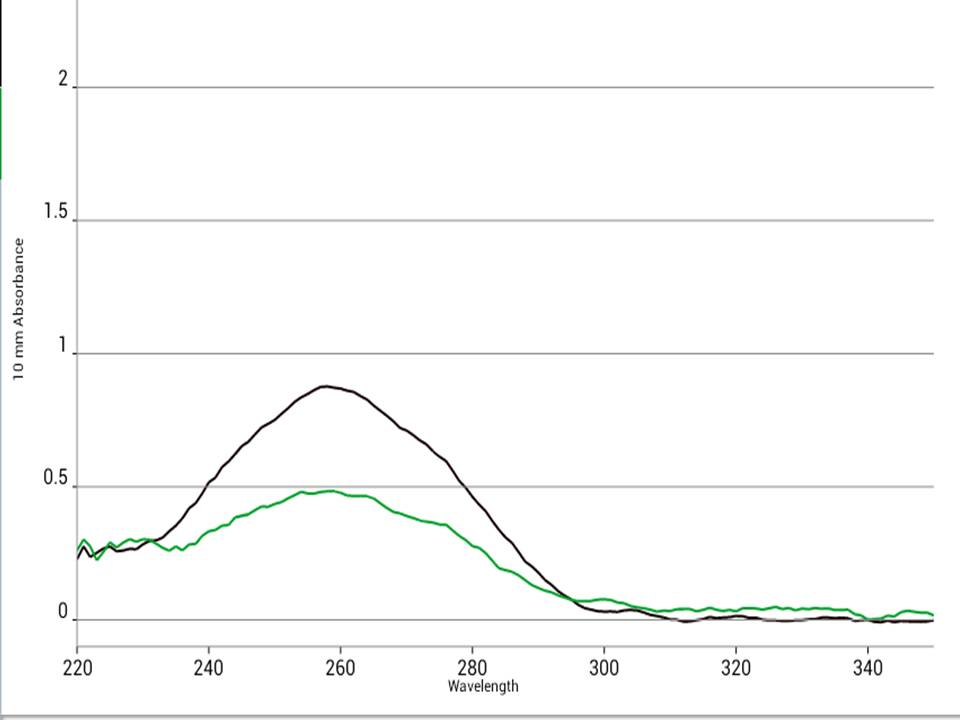 ×